Whoa. The villain Ninetails from Okami is, as I have just figured out, based on a distinctly badass spiritual entity from Japanese folklore.
I mean, I knew Clover Studios filled the game with Shinto mythology but seriously, this is cool. I am especially excited about it because Ninetails is one of my favorite villains of all time. So, here goes. (spoiler alert!)
It seems like Ninetails is a kitsune, which is a shape-shifting fox being that is portrayed both positively and negatively in Japanese folk stories. Kitsune can have several tails, and continues to grow more (up to 9) as it becomes older and more powerful. Once it reaches 9, its fur becomes white or gold to indicate its maximum power. As such:
When Ninetails is reduced to one tail, he becomes a simple red fox of substantially less power, as predicted by folklore about lower-tier kitsune.
Yako (the destructive type of kitsune) are mostly known for being notorious tricksters, and they are known to occasionally take the form of humans to cause mayhem. Ninetails is a cunning trickster who murders Priestess Rao and takes the form of her body in order to infiltrate the ranks of his opposition and obtain the legendary Fox Rods that grant him supreme destructive power.
He uses Rao because 1) she holds a position of religious power and 2) because her seductive appearance frees her from suspicion in Nippon's male-dominated society. Likewise, kitsune often play the role of back-stabbing seductress in Japanese folk stories.
Furthermore, kitsune were known to summon fire or lightning which was called kitsune-bi, or fox-fire. Both Ninetails and his servant foxes utilize what Issun calls "fox-fire" while you fight them, and this fox-fire is concentrated into orbs that float around during both battles. These are called hoshi no tama in Japanese mythology.
When you reach the location of the boss battle, you look up into the sky and see a fox-shaped constellation, whereupon you use your Celestial Brush to force Ninetails out of his spot in the sky and onto the arena where the fight commences.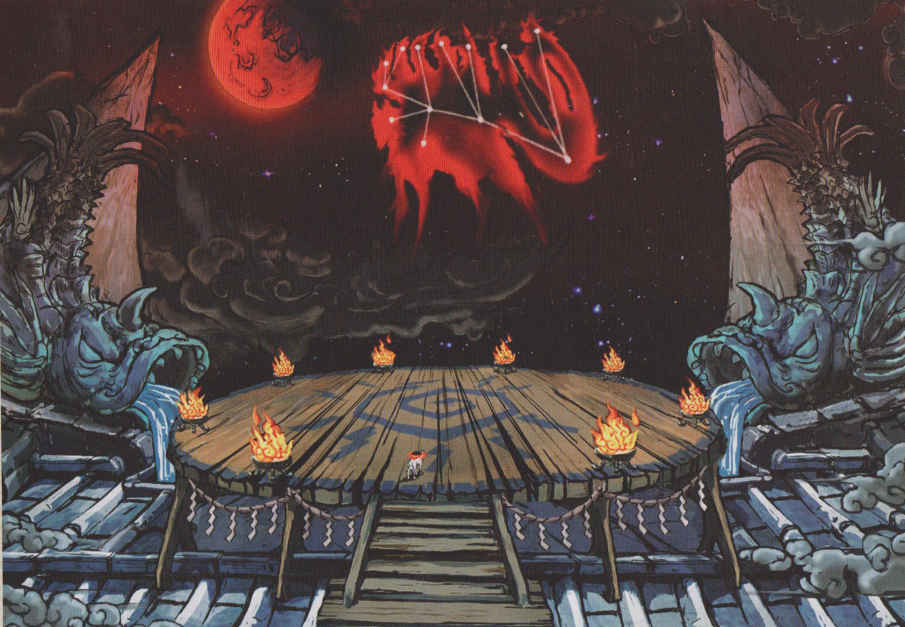 Similarly, powerful kitsune are said to have the ability to disguise themselves not only as animals and humans, but also as celestial objects (for instance, a second moon or a constellation).
And finally, kitsune are said to be mortal enemies with dogs. Okami keeps up with this tradition through the undoubtedly canine identity of its protagonist Amaterasu.
Yup, there you go. NOW GO PLAY THIS GAME.
I admit I'm a little obsessed with it, BUT IT IS NOT WITHOUT REASON